The New York Mets are pulling an offseason that's impressive. The last time the Mets had a winter this impressive, it was 1992. Jeff Torborg was the genius manager, Bobby Bonilla was the sexy addition all star addition to the lineup, Eddie Murray was a veteran star reaching the end of his career, Bret Saberhagen was an ace Cy Young pitcher brought in to bolster a rotation with Mets stars form the 80's lingering around….holy shit, this all sounds familiar. And suddenly, it sounds frightening! That 1992 Mets team ate mule ass. Murray was the highlight maneuver somehow driving in 93 runs while batting a poor .261 and with a meager 14 home runs.
How do the Mets avoid that same fate for the 2022 version of the team? By keeping the foot on the gas pedal. They made some very nice moves in Starling Marte and Max Scherzer. They made some good statistical moves in Mark Canha and Eduardo Escobar. But they aren't done, not by a longshot.
There are thirteen steps that can- barring injury- make the Mets a devastating ballclub to face, both now and in the future. And of course, I'll share all ten of these concepts with you in no particular order.
Step one (and two?): Trade JD Davis
Why? Because he expects it. He almost sounds like he wants it. AS far as I can tell, the Mets lack of fascination with the .288 as a Mets hitter goes back to when Davis did not accept a contract offer and went to arbitration. The Mets won that case – which was over about $300,000- but in winning, I'm sure they felt that if the arbitrator thinks Davis isn't good, then maybe he isn't. What can a JD Davis get for you as a team? The first base, third base, left field designated hitter and two time pitcher that has hit .288 over the last three seasons should get you a decent haul from either a major league roster or in minor league prospects.
The Mets acquired Kahlil Lee for just about nothing, and Mets fans think he's a star of the future. He's not. However, if some minor league trash gets you something, imagine what a .288 hitter should get you? I'd think immediate high level bullpen help, or two of a teams better prospects. Too much, Mets fans say? Sure. Now do the trade the other way. What, as a Mets fan, would you think the Mets have to give up to acquire a supersub that hits close to .300? Most Mets fans would say Brooklyn, because most fans in general don't get how trades work.
Davis is good enough to think, maybe he can be moved to get the Mets another closer. Maybe it's a package. Maybe that package is headed to Milwaukee and involves Davis and Edlose Diaz for Josh Hader. And that is not a crazy, impossible deal.
Step Three: Trade Dom Smith
Next up on the trade market is Dom Smith. Personally, I do not prefer to trade a guy on a down season (as you'll see in my Jeff McNeil explanation later on), but here's the thing: 2021 was a normal season for Smith. Dom Smith is a career .252 hitter. Smith hit .244 last season. His ONLY outliers as season were in season with less than 200 at bats. And his only season with heave work? He hit under his career average. And had a dip in power, as he hit just one more home run in 294 more at bats. Smith has never hit 12 home runs in a major league season.
Is Dom a good guy? Absolutely. Is he a linchpin to the World Series? Not at all. What could a Smith get you? Maybe a middle reliever. Maybe picks or prospects. I'm OK either way. You'll see why shortly.
Step Four: Trade Robinson Cano
When the Seattle Mariners gave Cano that absurd 10 year contract, they probably weren't expecting all of the performance enhancing drug issues that followed. The first time Seattle saw a drug suspension? They saved almost $12 million dollars in forfeited salary. And what did they do? Immediately traded Cano to a baby GM and ate $16.25 million of the remaining contract Cano saved Seattle $12 million of that, so basically the Cano deal costs Seattle $1 million a year until the deal ends.
With his second drug bust, Cano saved the Mets $20 million. It's about time to use that money just like Seattle did.
Trade Cano to whomever wants him. He will hit around .270 next year or two and play some second base and some DH, which will help preserve his body over the final two seasons of his no longer hall of fame career. A .270 hitter in the major leagues come in at around $15 million. So let the Mets use that $20 mil they saved last season and subsidize Cano over the next two years for $10 million per. Add Seattles $3.75 million, and any team taking Cano will have a final cost of $10.25 million. Cano is 29 doubles away from 600. Bad teams like to celebrate weird shit like that, and like a marquee name on the roster. See Mets with Gary Sheffield, Ricky Henderson, Bobby Bonilla part two, etc.
Cano will not bring you a massive haul because of all of the question marks after his second drug suspension. But he will save your $10 million by not being here, and will get your either a bullpen arm or some minor leaguers. The Mets can use either of those.
Step Five: Trade Carlos Carasco
Where? Back to American League, of course. Carasco has his entire career success in the AL. Send him back. Carasco had a nightmare year last year. He was trash. He was often injured. He threw batting practice to open games. And as previously noted, it's bad to trade guys coming off of underaverage years. It's worse to do so for career worst years.
But Carasco should be able to slot in as a starter for a team, which has some value. In the AL, he has a reputation. He has a contract in the last year of a deal, making not crazy money for a starting pitcher at $12 million. He does have an option after that at $14 million with a $3 million buyout, so if he's good? It solves a two year issue for a team. And if he's bad? Flush the turn for 20 percent of his contract.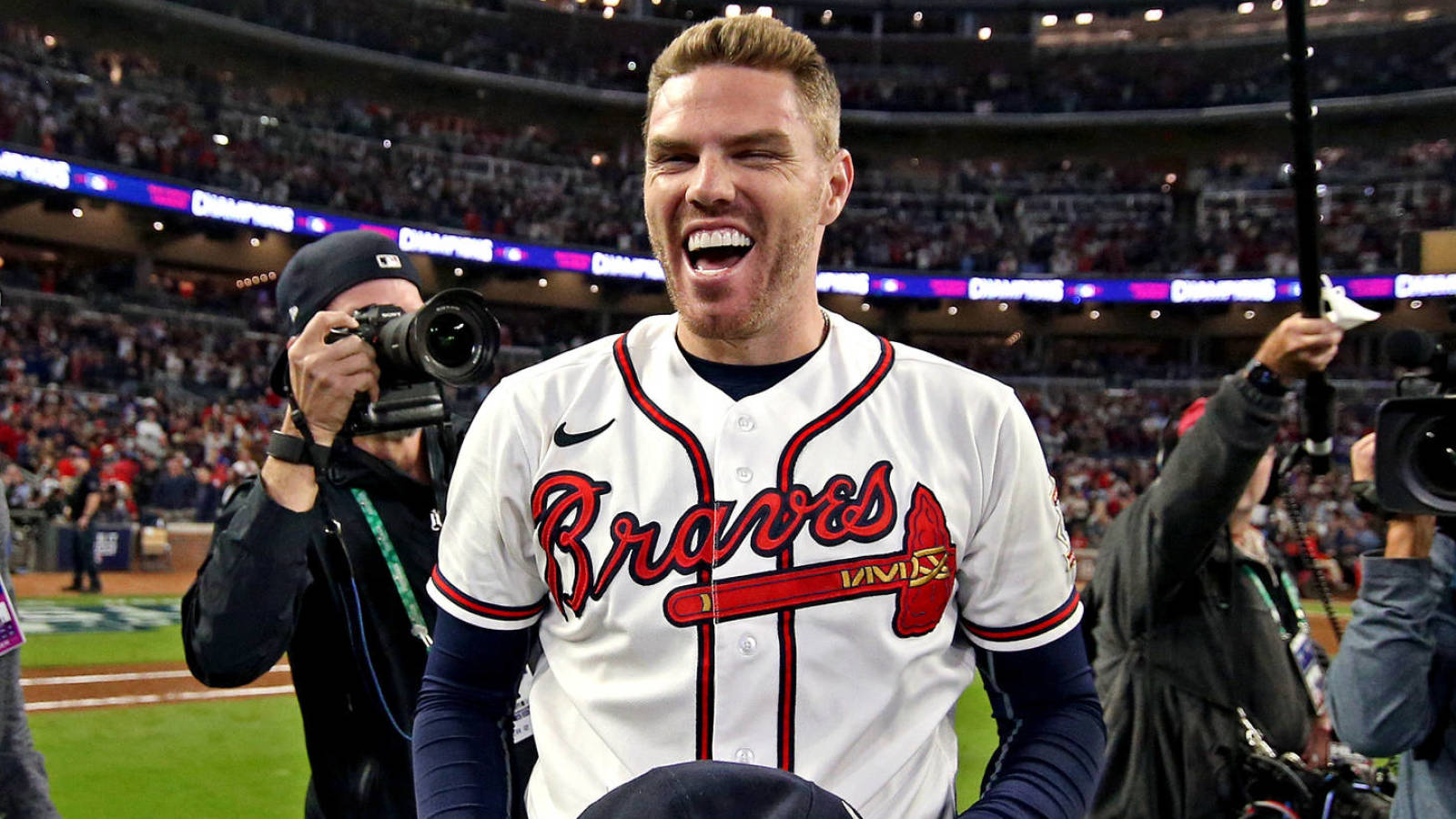 Step Six: Sign Freddie Freeman
This makes Pete Alonso your backup first baseman and your DH. This improves the team in the lineup and in the field. Freeman is a former MVP. He's a potential hall of fame player. Freeman is going to turn 32 next year, but put up numbers very similar to his career averages last season- he hit 300 with 31 home runs last season with a .393 on base and scored 120 runs.
As the Mets did with their interdivision rival Washington Nationals (and also on some level the Dodgers) with Max Scherzer, make Freeman an offer that is so massive that he can't say no. 4 years, $140 million. The guy is a gold glover, silver slugger, all star, MVP, and world series champ. That kind of stuff will absolutely help change a culture. And when the deal is up? Pete Alonso will be 30, and not too worn down, so he can either go back to first or share in a position. Also, by sharing first with Alonso, Freeman will be better preserved as he ages.
And did I mention how this damages the Mets archrival, the Atlanta Braves? As a part owner of the Braves, I may not like this concept, but as a Mets fan? I love it!
Step Seven: Sign Seiya Suzuki
This one is a total no brainer on so many levels. First off, have you ever been to Citi Field? It you come from the east, you pass a million Asians along the way. And no, that's not a joke. There's a Chinatown in Flushing. Look it up. Northern Boulevard has more signs in foreign languages than in English, and almost all of those signs are Chinese, Japanese, or Korean. Why would the Mets from this day forward NOT have an Asian player on the team to draw a crowd? Did you see the reactions to Lindor and Baez among the many Puerto Rican Mets fans? It's a great way to draw for a team that finished in the bottom third of attendance last year. Remember Linsanity? It's time for Seiya Later!
Oh, by the way, in 2021 the 27 year old Suzuki hit .317 with 26 doubles, 38 home runs, 88 RBI, and an on base percentage of .433 thanks to his 88 walks. While he did strike out 89 times, on the Mets? That's the team low. The three "starters" on the Mets are NOT going to play a full season. Mark Canha played in 141 games last year. Starling Marte was in 120 lineup cards last year. Brandon Nimmo showed up for 92 games. That's 133 games they would be missing in a full season. That's enough to make Suzuki a starter and to reduce workloads on everyone else so maybe they last a little longer.
Besides, Nimmo just hired Scott Boras as his agent. If Boras asks for insane compensation and forces free agency, which he is famous for, the Mets already have a replacement with similar on base stats and more power. Suzuki is expected to be paid somewhere in the $12 million range. Boras doesn't look at anything under $20 million for a player. Not that the Mets have to penny pinch anymore, but having a player that's 2 years younger and with more offensive diversity that plays both outfield corners is a pretty good backup plan.
Oh, Kris Bryant? Fuck off. He's entered the declining part of his career. He'll have a good year in 2024 after a declising 2022 and 2023, then fall off the planet in 2025. You read it here first.
Step Eight: Keep Jeff McNeil as Supersub
The Mets want to trade McNeil. This is a bad idea for a few reasons. One is that McNeil had a down year by his standards. It's not the best idea to trade a guy in a down year. Also, I get the feeling that if he left the Mets, McNeil would pull a Danny Murphy and compete for a batting title. If you have an absolute hard on for trading McNeil because he has a scuffle with the forever contracted Francisco Lindor, maybe you wait to see if he turns it around and make him a deadline deal piece for something bigger. And if he still hits .250, you trade him for the same haul that you'd get now. Also, lets not forget that McNeil can play second, third, left field, right field, and DH. Because he's done that in his career. He's probably fly the team plane as well, if he could get his hands on it. Having a multipositional guy lets you use roster assets in areas like the bullpen, where the Mets need love.
Step 9: Promote Brett Baty or Ronny Mauricio
the Mets need to start promoting youth this season. Mauricio is younger, but looks to be a better hitter. Francisco Alvarez should be on this team in 2023 to back up James McCann, and to take over the starting job by the last year of McCann's deal in 2024. Mets can use one of those guys to rotate into the DH role as well. Adding youth helps mitigate the monster contracts that the Mets currently need to pay to attract talent, and puts a brutal lineup around them to protect them.
Step Ten: Sign the 2 Best Relievers on the Market
That's subjective as to what GM Billy Eppler is looking for, but I would start with Colin McHugh because that's a feel good story to reunite with a former Met. I'd also look at Kenley Jansen, due to this postseason experience, performance, and availability.
Step Eleven: Sign Clayton Kershaw
The Mets are absolutely in win now mode. It is what it is. So since that's reality, the Mets need to sign the best available starter on the market. Right now that's lefty Hall of Famer Clayton Kershaw. Yes he is 33, which is…not ancient at all. Kershaw made $31 million last season. I think Cohen has shown the willingness to spend more than that on a player. You have to make the offer. $40 million dollars is the neighborhood you need to be in. If the Dodgers exceed it? Great. They aren't willing to spend endlessly, so every extra dollar from their budget prevents them from making other power moves. To be interesting, I may look into signing Zack Greinke because he'd be a blast playing in New York, as he is a weird dude. Adding both may be the best option, as suddenly you have a rotation of DeGrom, Scherzer, Kershaw, Walker, and Greinke. Kershaw as a 3. Yikes.
But what of the Mets pitchers from last year? Yamamoto, Peterson and McGill all have options to head to the minors, which isn't the worst thing for any of them. To be honest, I'm not sure Yamamoto even has a contract, or if he deserves one. Joey Lucchesi is here until 2025, so that's a keeper as a long man/ spot starter if and when he gets healthy. McGill has a lot of potential, and that potential would be best served in learning the league protected by multiple Hall of Fame pitchers. They may even teach him a thing or two about pitching, and he may come in and blow guys away for 2-3 innings to hand a game over to a closer.
Step Twelve: Then what?
So, there's the short term and long term plan for the Mets. Win now, unload players now to restock the minors, move some decent players for immediate decent bullpen help, and spend more money to make it so. Let us not forget, the Mets get rewarded for botching the 2021 draft by a compensatory first round pick. They will get extra picks for the Angels signing Noah Syndergaard and whomever signs Michael Coforto to hit .270. In short, the Mets will have 6 picks in the top 100 in this upcoming draft. That's a good way to reload your system now, and also move some of those picks into the future so that your bonus pool is better spread out.
Step Thirteen: Be a Fan, Asshole
If the Mets payroll is $400 million, to quote the hilarious departed Otto and George, "Who gives a shit?" Mets fans already pay a ton of money to see the team. Adding $3 a ticket to see a 100 win All-Star team? That could possibly win a World Series? When is the last time the Mets could say they could possibly win the World Series? 1986, to be exact. So what fan says no to the extra bucks? For a winning team? Nobody, except negative, griping assholes that you can never make happy. At this point, all the Mets have to do is win. They have an owner that wants to win and can afford to spoil the team and the fanbase. So why not put them in the best position to do so, instead of more of the same half assing?
There's your plan, Billy Eppler. Make it so.