I feel like Peter Jackson. Not because I'm fat and furry, but because I'm telling a story that suddenly has grown into at least 3 parts, and is going to be more likely six parts regarding the Islanders off season in 2021.
In an article I wrote on July 7, 2021, I mentioned ways the Islanders could fix themselves. I've linked the article, but in case you're too lazy to look at it, the article proposed the following:
Trade nick Leddy to Detroit.
Sign Zack Parise
Resign Kyle Palmieri
Resign Casey Cizikas
How did I do? I mean, some writers suggest or say or infer ideas or rumors. I predicted EXACT EVENTS. My Islanders foil Kool Aid Rob critiqued me saying that if I was so smart, why wasn't I an NHL GM, and my family should be disappointed in my not raking in NHL GM dough. Based on Garth Snow, that dough is Cookie. But he's probably right.
Why can a layperson see so many obvious things that a professional can not.
Now, when I say professional GM, understand that a professional GM is not exactly the same thing as a professional teacher or doctor. Those jobs have qualifications.
But hockey GM? Before he had the New York Islanders playing "Smaht" and "Haard", Jack Capuano was a hockey GM. So how hard can it be?
But I digress. The gist of the article was that the Islanders needed to do more than just add one new player.
I suggested Vladimir Tarasenko at forward, Zdeno Chara to replace Andy Greene, and to promote the most deserving AHL player at 6th defenseman to be budget conscious.
So far I'm 67% exactly precise with the moves Lou Lamoriello has made. But I think there's a better ending to my predictive ability and actual NHL Hall of Fame GM foresight. And it's right in the face to be snatched up.
Don't get me wrong, Tarasenko is still a possibility. It's just that the bait to get him has changed. The bait however will still be by trade. Unfortunately, Islander fans have two ideas in mind about what a trade means. Anything on the Islanders roster has no trade value. Also, anything on the Isles roster is invaluable. Example?
"Who would want Leddy? He sucks. We'd have to include 4 1sts to move him."
Reality? Contract moved to the EXACT TEAM I predicted, and the return was a 2nd and a player with Detroit retaining half the salary.
#IslesKoolAid the usual zero, #IslesRealists for the win.
"Ladd is untradeable."
Reality? Ladd moved for 2 draft picks going the other way, which is very fair.
"Bailey unprotected? We're fucked."
Reality? No GM in the NHL WANTS Bailey. Not without inducements to take the zilch preventing the Islanders from winning a Stanley Cup. So technically, #IslesKoolAid is right on this one. We are fucked, because Seattle didn't pick Bailey and the Isles are still stuck with him.
"Komorov is untradeable."
Realty? You're going to be wrong on that call, too.
As per my thesis in this piece, the Islanders can not take a step forward without a better infusion of new blood. By new I don't mean teenagers. By new I mean guys who did not get to the highest stage of their career and fail. Parise is baby steps toward that. Tarasenko – a cup winner – would help that. Dunn – a cup winner – would help that.
Wait, did you say Vince Dunn?
Whereas I predicted the Isles reuniting with Chara, my mistake was Lou's ties to the New Jersey Devils. Hello, Palmieri and Parise? Greene is done, but Lou is looking to fulfill something on a personal level that most people have no understanding of. It's called loyalty. Old school. Respect.
But I did predict Tarasenko. And I'm feeling Dunn would be something interesting. But why would the Seattle Kracken trade Dunn?
Well, anyone watching Seattle's expansion draft would be underwhelmed. Seattle needs contracts to reach the league floor. And Dunn is a restricted free agent. Dunn can hold a new team hostage for an overpriced contract. So what would help everyone?
Trade Josh Bailey to Seattle for Dunn.
Seattle benefits. Bailey and Eberle can combine to form….something. Maybe Seattle can become the best #IslesKoolAid first line in the NHL, and Bailey will prove how amazing he is. My guess is about as amazing as arena food Seattle gets contract security. They acquire a "top 6" forward for a defenseman that may bend them over. Seattle hits the cap floor. Joy! Just…don't hold your breath waiting.
And the Islanders? They wrap up the defensive acquisitions that they need to and waylay a rookie from joining the league for one more season.
And Tarasenko? After the St. Louis Blues management trash talked VT, they ruined his asking price. So if I'm the Islanders? My offer is salary offset and a 1st. So see ya Komarov, Hickey, and a 1st. Next years first will be 32rd anyway, as with the removal of Bailey from the top 6? The Islanders become instant Stanley Cup favorites.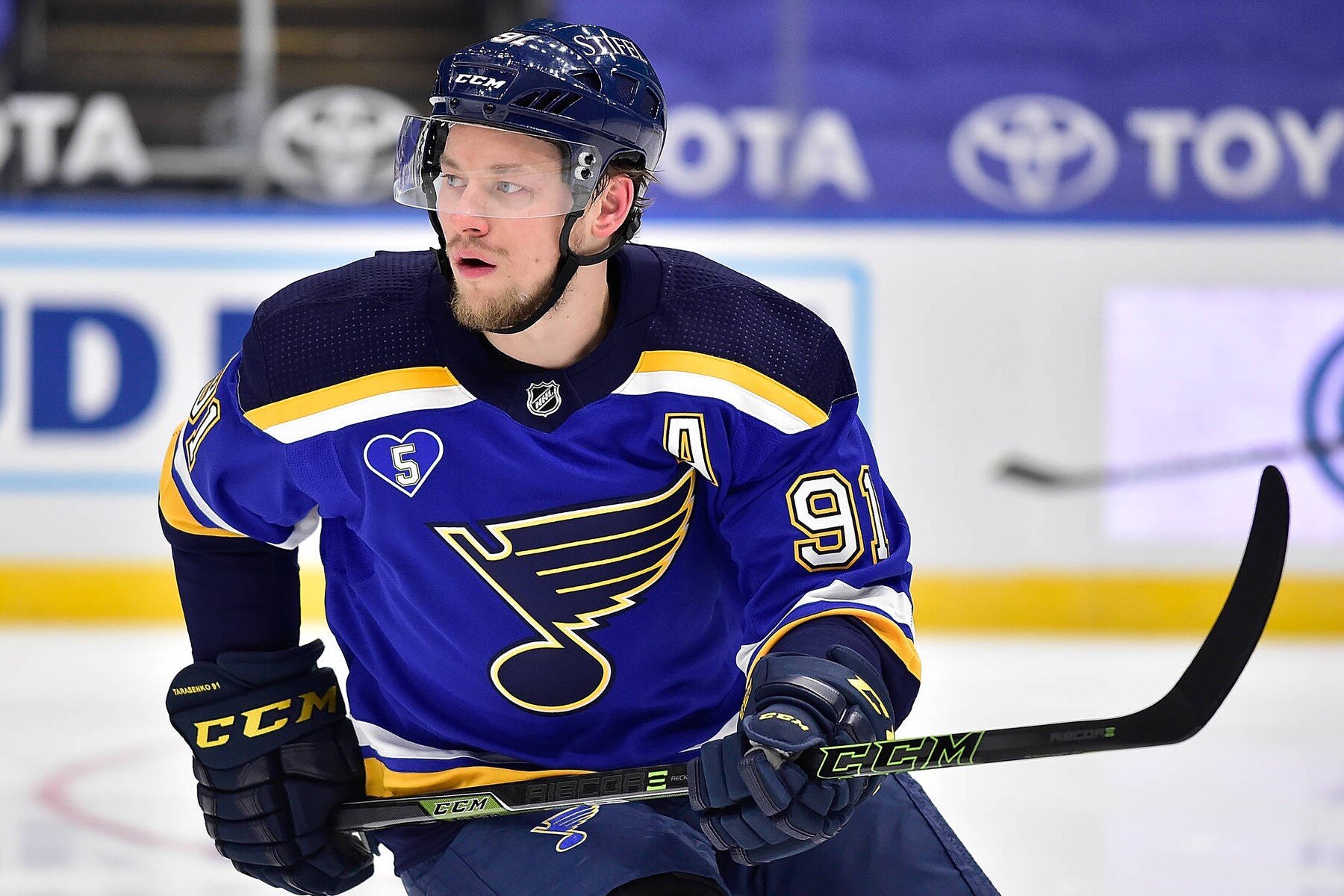 But Tarasenko has a messed up shoulder! He can break? True. 100% true. So what to do?
Make the trades. If Tarasenko does go down with an injury? You have $7.5 million to replace him. For this season and probably next season, if the team is smart. You know what you can acquire for $7.5 million?
Here's an example: Patrik Laine. He just signed a 1 year deal with Columbus, which has a history of losing trades for good players. A pick and a prospect gets that deal done. Also, anyone else that has a cap hit under $7.5 million and is productive. That's a long list.
And you want to know what else? The Islanders with Komorov, Hickey, and Bailey gone can roll 4 productive lines. Looking back at the Tampa Bay elimination series, what line could you call effective? The first one? 2 goal scorers on line 1 is not effective. The second line? One goal each is not effective. Did Tampa's second line only score 3 goals in 7 games? Isles third line? No goals whatsoever? Ouch. Isles 4th line? They don't score, they break balls. And they did…although there was zero significant, momentum changing hits from that entire line over 7 games. But at this point, they are the identity line. Sadly, our identity is almost aggressive enough hits, and low scoring.
You may say, why do you want to unload Bailey? In the playoffs, his game always steps up. Statistically, that is true. So let's do a fast review of Bailey's "stepping up:"
First two playoff series ever? Isles lose. Losing isn't stepping up.
Then Florida? Thomas Greiss and Fuckface Scumbag puts the team on their back. Isles win, then promptly get destroyed by Tampa Bay. Amazing that Tampa Bay has been competitive since 2016. We have 2 competitive years out of 20 and we want to retire 24 jersey numbers.
The most recenf ECF against the Lightning? What did Bailey produce? What, he had 20 points in the playoffs? How many came in the Eastern Conference Finals?
Reality says, when the going gets tough, Bailey is wet toilet paper. Smears shit all over himself, does nothing for his team. Ask Yanni Gourde, who was assited on his game winning short handed goal by I Josh you not Bailey. #Elite.
If assists to opponents counted, Bailey would be the next Wayne Gretzky.
Also…that's it. Baileys first decade in the NHL was 4 playoff series, 3 losses, 1 miracle. What changed since then? Bailey? Or the coaching staff?
It is insane to think that Bailey is the catalyst.
To wrap this mini reality lesson up., Bailey is absolutely replaceable, and is overdue to be replaced. Look at hockey reference for his modern counterparts, production wise. Most of those guys were on 4 or more teams, because they produced as much as Bailey, which means they were unimportant.
The Islanders are a team that is built for the playoffs. They are the second best playoff team of the last 2 seasons. The issue is that those seasons were shortened.
So if the Islanders roll the same team in a shorter season, when that late season decline starts, the team can in reality fall out of playoff position. And a playoff team that doesn't make the playoffs is kind of like when a tree falls in a forest and nobody is there to see that tree fuck up.
In short, the Islanders made one significant change. On the third line. The need a significant first line change, and a significant top 4 defense change. And could make a cap saving statement in goal, but I don't think Lou or Barry Trotz trusts Ilya Sorokin that much yet. Thus, they have no free salary cap money to sign free agents. Personally, if we are not promoting young talent, I would like Sami Vatanen and Vince Dunn to fill out the defense at the expense of Greene at Bridgeport, but cap space is cap space.
But here is what I do know. With the offseason moves of Tampa Bay acquiring Brent Seabrook's dead contract? They have the funds to reload the bottom six that left, and they have locked up Brayden Point for the productive part of his career.
And the Islanders? They replaced Palmieri with Palmieri. They replaced Lee with Lee. They replaced Eberle with Whalstrom. They replaced Dal Colle with Parise. They haven't replaced Leddy. Teams that win cups tend to make multiple substantive changes, as I demonstrated here.
Some people think that Bailey should retire with the Islanders as a career player. If Bailey was a true Islander? He would gladly leave the team so that they could win a Stanley Cup two, and then sign a one day contract at the end of his disilustrious career to truly become an Islanders legend.
You telling me that's an improvement? If so, I have a bag of dogshit you may be interested in acquiring. For cash.
The Islanders went from losing in 6 to Tampa to losing to 7 in Tampa. Trotz went from being run over by Hedman, Kucherov, Pointe, and Vasilevski to just being destroyed by Pointe and Vasilevski.
Tarasenko and Dunn for Bailey, Hickey, Komarov, and a draft pick. Less than that? Next season is going to be more of the same.