As we sit in the rarified time of year where all four major North American sports are rolling, now is as good a time as any to do some quick hits on the New York sports scene, as well as anything else I can fit into a paragraph of a take.
New York Mets: A second year in a row of failing to find a president tells me something: you're doing it wrong. Yes, a team president can change a culture. But the St. Louis Cardinals have had back to back losing seasons once since 1960, and I'm almost positive that they've had more than one team president in that time. Maybe culture starts at the top?
Also, I am available for the GM position. And unlike other GM's I won't trade any of the top 5 prospects unless I think they stink.
New York Yankees: Need a shortstop? Wait until a week into free agency, and see what the Mets would take for Francisco Lindor. I get the feeling that you could move a bad contract or two and get a bargain price based on the savings. Maybe move Gerrit Cole's deal, because without super glue in the glove that deal seems like it's about to blow up.
New York Rangers: See what happens when you get a good coach? Amazing. Hopefully the Mets take note.
New York Islanders: While you've been the most successful team in New York for the last two seasons, realize that's always a tenuous position. On that theme, Zdeno Chara needs a rest. Time to make that guy a 7th defenseman and give Robin Salo or Samuel Bolduc a chance.
New York Knicks: You need an all star. Watching Julius Randle shoot in the clutch is like watching…Kirstaps Porzingis shoot in the clutch. You need the guy that ends opponent's rallies. You need the guy that looks forward to getting the ball with 8 seconds left on the clock and the team down by one. You have 4000 draft picks over the next few years. Seems easy to look to move picks and pieces starting with Kevin Knox and Mitchell Robrokenson.
How many times do we need to watch a Knicks 10 point lead evaporate in the last 3 minutes of a game before you address this?
Brooklyn Nets: Trade Kyrie Irving. I get he is wholly overpaid and few teams can afford him. But he is a me first player. Always has been, always will be. No one wins with him unless they have 3 other all stars, and then they don't even win. A swap with the Sixers for Ben Simmons would help with the salary differential, and Simmons doesn't need to shoot with James Harden and Kevin Durant willing to throw even more shots up. Plus, Philly hates winning, so Irving will fit in nicely.
New York Giants: You are hard to watch. You need an identity. You wasted a 2nd overall pick on a running back when you had so many more issues. That's like a homeless guy buying a Ferrari. You can't even sleep in that, which makes it a total waste.
New York Jets: You are hard to watch. You need an identity. And a new owner. You have a head coach who was a defensive guru, and your defense is absolutely horseshit. You have the second best quarterback in the draft playing like he was chosen in round 5. You're a dysfunctional franchise.
Jet and Giants: If you merged these two teams into one? They would win 4 games all season. Think about that. Also, call yourself New Jersey, for fucks sake. You've been there for 40 years.
All Major Sports: Stop firing people today over things that happened years or decades ago. It's a stupid practice to use modern standards to not only evaluate the past, but to punish it. Or in many cases, punish it a second time. It's even dumber to have the people who originally made those initial decisions making new ones that are even worse. Unless you can dig up Hitler's bones – who actually did bad stuff- and make him apologize? Shut the fuck up, be glad the world is a little better now than it used to be which isn't much, and then learn what forgiveness is so that we continue progress instead of falling into retroactive justice for none of your concern that makes society even worse than it used to be. Let he or she who is without sin case the first stone, but everyone else? SHUT THE FUCK UP. We're not chasing Nazi's hiding from Holocaust crimes. Most of these sins are from emails and tweets that hurt your feelies. Remember that sticks and stones rhyme? Time to grow up.
Besides, why should behavior occurring outside of work affect your job? If your lawn looks bad you should lose your job? If your wife is ugly you should lose your job? How about losing your job when you're bad at your job, and dealing with personal matters personally?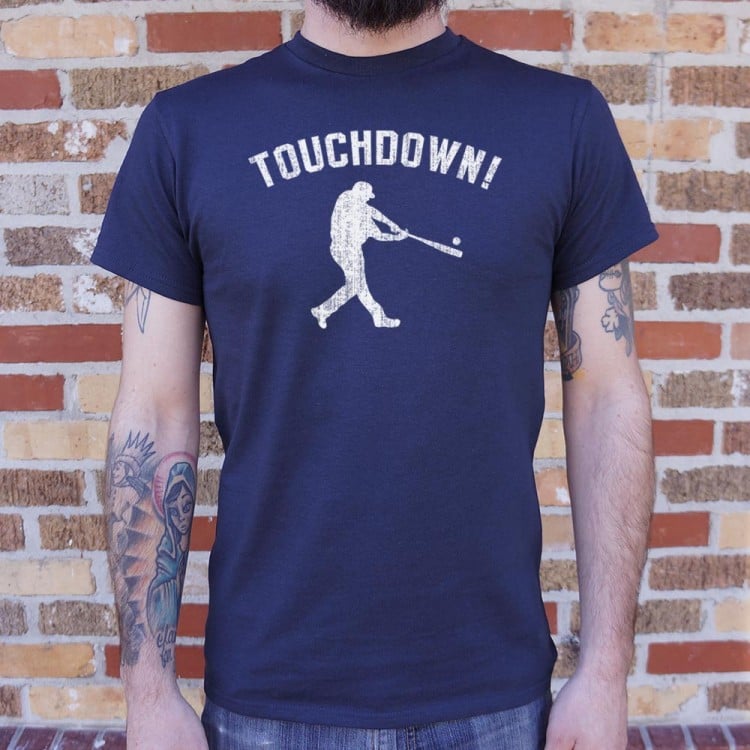 Sports Teams Across the Nation: It costs $2 to make a t-shirt. Here's an idea: start selling them to fans at $5. Not all of them- you can have some kind of fancy t-shirt, maybe with frills or flip flop paint or something. But a basic, made in China t-shirt? You give that shit away to fans at games in rocket launchers. Offer fans some free advertising for your awful franchise at low prices as a thank you for putting up with our milking you for every dollar you have while we have a 300 winning percentage offering. You know, actual decency? Instead of firing a guy that said "Ching Chong" 20 years ago? Speaking of, Shaq is still on the air, so get cracking, social justice warriors!