New York Sports have an unnatural relationship with reality.
Think of it as a super hot female model. Not the cute girls at the bar and local flyer bikini models that made up the last shitty Sports Illustrated calendar. Like a real smokeshow. She walks around and people just do shit for her. Buy her stuff. Act extra nice. And It happens so often that she starts to take it for granted. She expects it. She becomes self-absorbed.  
And we all know what happens when that girl loses her looks, or the next super model takes her place and they fall into obscurity. It's not a pretty picture.
The analogy here is that because something is attractive, it often doesn't feel that is has to work hard. Let me present a specific case of not working hard as you become less attractive: the New York Knicks.
The Knicks haven't been relevant in 20 years. That wasn't always true. Between 1993 and 2003, the Knicks appeared in the NBA finals twice, with two different head coaches and two very different teams, philosophically. That actually is a credit to management. Generally a team has a small window with a great lineup. See Golden State… or every team Lebron jumps tat to get all stars to carry his ass.
That the Knicks lost one final (maybe Pat Reilly should have subbed in Hubert Davis? Its why you lost, bro) and a few years later were back in the finals to lose with a completely different team – showing that Patrick Ewing missing lay ups and dunks doesn't actually matter to a loser franchise- as long as you reallocate resources.
But between 2001 and today? The most exciting Knicks moment was a cast off point Harvard educated guard that electrified a city. For ultimately a go nowhere team.
So we have to look at this body of work- a dead body, really- and we have to ask- why are the Knicks so horrible?
The answer isn't so complex. I boil it down to headline envy.
The Knicks under owner James Dolan likes headlines. But not the right kind, like winning titles. No, he wants everyone to write about the Knicks, to refer to Madison Square Garden as the Mecca of basketball (wonder how many basketball fans actually know what Mecca is?) and to keep headlines because…have you seen the Forbes valuation of the Knicks lately?
$4 billion dollars. FOUR BILLION DOLLARS. For a team that hasn't won a title in the lifetimes of most of their fans. The last time the Knicks were champions Gerald Ford was president.
And how bad are the Knicks? Look at their present crosstown rivals, the Brooklyn Nets.
The Nets have made the NBA finals twice since the Knicks made their last appearance. The Nets aren't able to keep a home, but they have more success this century than the Knicks have. And since 1974, are 2-2 in league finals compared to the Knicks 0-2, albeit that the two wins were in the ABA. But for NBA standards, since 2000 the Nets have at least won a playoff series- when was the last time the Knicks did that?
The Nets have been vagabonds throughout their existence. Since their NBA arrival in 1976 they've called Uniondale NY home, Secaucus NJ home, nearly called Newark NJ home, almost called Westbury NY home, and presently call Brooklyn home. No one wants to keep them! And yet…since 2000, more successful than the Knicks if you look at playoff series wins as a barometer.
This pissees Dolan off. So he wants the backpage of the newspapers by interfering with team management so trade for superstars, or stars, or by leading the league in ejecting alumni, or anything that gets a headline to disrupt his losing. Speaking of losing, how have the Knicks done with coaches?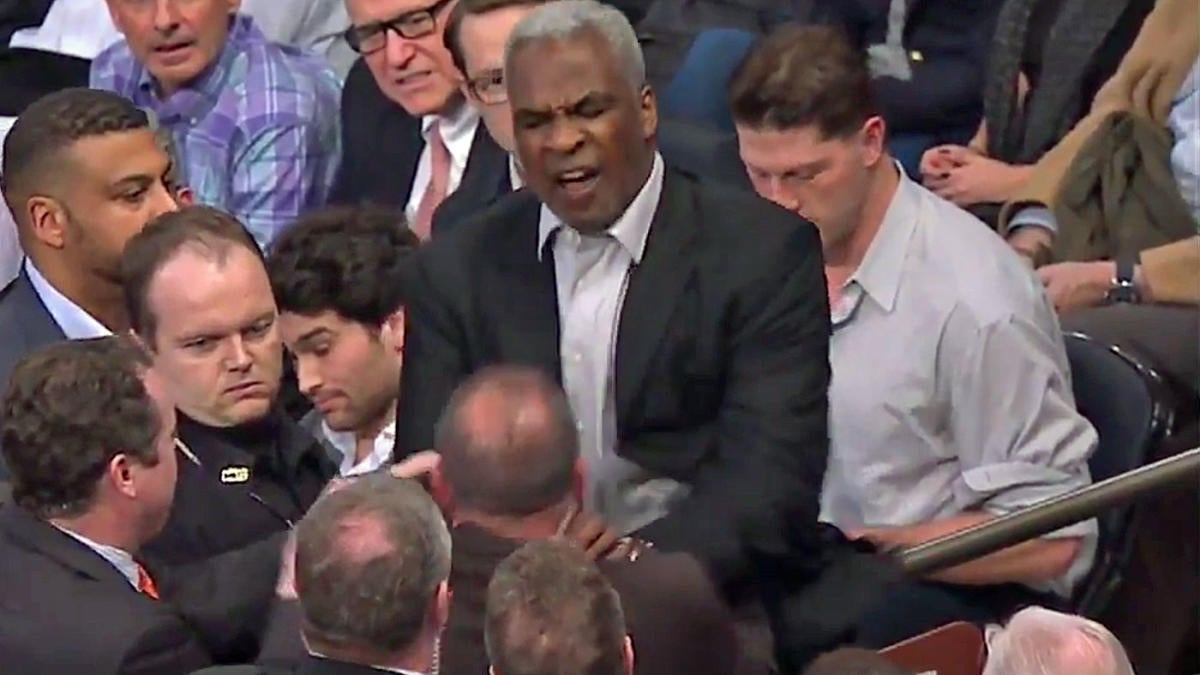 I'm pretty sure the last good Knicks coach was Jeff Van Gundy. You could argue Larry Brown was a good coach, but certainly not in his Knicks tenure. The Knicks are presently looking at new and exciting head coaches, some with limited experience. And the first experience all of these guys get? Losing. Fizzoutdale sucks.
Same goes for the front office. Phil Jackson was an incredible NBA coach. And was an imbecile as a team President with the Knicks. The sole good draft move Jackson made was Kirstaps Porzingis, who he promptly alienated and ultimately read about demanding a trade. Why read about it? Because his ass was already kicked out the door, having done nothing but lose in his Knicks tenure.
But the management in between? Isiah Thomas did a fantastic job as team President and GM, and even better as head coach. The Eddy Curry and Zach Randolph trades comes to mind, as do all those bad free agent contacts to players like Jerome James and Jarred Jefferies. Then there's that weird $11.5 million deal he gave to Anucha Brown Sanders. I don't know what that's about but it can't be good.
And amazingly, after the sexual harassment claim from Sanders, Dolan hired Thomas to run the New York women's basketball team, the Liberty. This is the lack of judgement that makes the Knicks losers. Guess you can't sexually harass a lesbian? It did get headlines, which is what Dolan wants.
Every team in sports looks to point to a golden age, but I'm a fan of the "what have you done for me lately" school of thought. And what have the Knicks done lately?
Be bad enough to miss the playoffs, but not bad enough to get a solid lottery pick? And why not? Because unlike say the New York Mess (not a typo) the Knicks will drop money at free agents. Where they do a terrible job with such- hi Joakim Noah! But just enough to make sure they're picking somewhere after the top ten.
This past Knicks season had some promise because they were absolutely fucking horrible and had so many expiring contracts that they would finally be able to be big game hunters in free agency. And you know what happened? Knicks gotta Knick.
They lost the draft lottery. So as fans suffered all season with that little glimmer of hope for a brighter future, the Knicks couldn't even lose right. Now I am NOT saying that RJ Barrett is a bust, and in fact he seems to have the trust of the organization as their highest draft pick since Patrick Ewing. But at the same time…he can't hit free throws? WTF. Every game the Knicks lose by 3 or less will 100% be Barretts fault for sucking at fundamentals. He went to Duke. He should know better.
Luckily for him, the Knicks are usually blown away by much larger margins of failure.
The other part of the Knicks past season that gave them promise was the two 1st round draft picks that the Knicks got from Dallas for Porzingis. But you know what? Luka Doncic will make sure those first rounders are somewhere in the 20's. The Knicks best hope is to package those two picks and see if they can get to a top ten pick, because a bench isn't going to help this mess. All they do is draft bench. Mitchell Robinson, Kevin Knox, Frank Tkinilikiniaiah- but not Alonso Trier. No, he was undrated but the Knicks signed him because he was buddies with Kevin Durant. That's the way to woo a guy.
Because Kevin Durant was leaving Golden State to hang out with an undrafted college kid. An undrafted college kid.
Oh, that was the other thing. The summer of 2019 free agency splurge! Who were the Knicks getting? Durant? Anthony Davis? Kyrie Irving? A combination? All three?
Howabout this- Knicks gotta Knick. They got fucking nothing. A bunch of castoffs that are serviceable NBA players, but no leadership. And their coach? David Jizzdale? That wasn't a typo either. Will he lead? Has he ever? Guy is a career loser as a head coach. How he has a job is not only staggering, but also lends to explain why the Knicks are just perennial losers.
But boy did they get headlines. The next one will be for firing the coach.
So that's a lot of bitching. What about a positive? How do we fix this?
First step- James Dolan needs to sell the team. He has $4 billion reasons to. Take the money and play with your shitty jam band. You've done enough. And not in the good way. Shit, the Nets sold their team and shitty arena over a billion, and the Los Angeles Clippers went for $2 billion. Take the money and go ruin something else.
Next step? You have a $4 billion franchise. Invest 1% in a head coach, GM, front office, and scouting staff. Maybe 1.5%. That'd be $40 to $60 million dollars. You know what you'd get? The top head coach and the top GM in the NBA taking a massive salary. You have a salary cap on players, but on coaches? Not so much. Yes, there are some staffing limits that apply to the players cap, but that doesn't fall on coaches.
Next step? Draft well. That's why you have scouts. And free agents? Be selective. Have a five year plan. Reevaluate that plan after every game. Do not be afraid to make trades, but always weigh the trade offs and opportunity costs in keeping an asset and moving an asset. Maybe hire a team economist and a team cap expert? Look at the present model that's working- teams effectively shooting the three- and emulate that, but figure out what the next trend is- maybe defense comes back? Maybe it's three point plays at a higher percentage shot? Maybe it's a ten second offense? But for the Knicks, we know what isn't winning- what they've been doing for almost 20 years.
Time for a change, Knick fans, or else it will be more of the same. Or more to the point, Knicks Gotta Knick.
*This article was written while watching two consecutive Thanksgiving time Knicks losses- to be fair, consecutive Knicks losses can happen at any time- but was inspired by Knicks superfan and the creator of the term "Jizzdale," AMR.
Follow the author on Twitter @JoshBarely