By Dan Radzicki
The New York Islanders have been a pleasant surprise for the second season in a row, which is a delight to Islander fans who are used to horrible surprises in back to back seasons, like naming your backup goalie your new GM just in time to hand over a 15 year contract, and the shit shows that followed.
But there is a refrain that started last season and has kept rolling, which is that the Islanders do not have enough offense. This narrative has not changed thanks to the free agent departure of some Toronto cuckold, the free agent rejection of a Russian who has won less than Ilya Kovalchuk in his career, the alleged rejection of an offer sheet for an opinionated kid out of Toronto that loves Matt Martin, and the failed trade for a Stone rolling out of Ottawa.
So when you read this thesis, you're going to say that it's stupid. On some level I will agree with you, but for reasons that you won't understand. You'll even say "How does that solve a problem?" And I'll tell you how.
Here's the thesis: Josh Bailey is Fucking Useless.
You might think you know how I got here, but trust me, you have no idea.
At this point you're having one of three reactions:
How dare I suggest that Mr. Islander Josh Bailey is Useless?!?
Who is Josh Baily?
No shit!
Let's give each reaction their due.
First off, Islanders Kool Aid loves Bailey. Who are Islanders Kool Aid. Here's the litmus test. Just ask the following questions:
Did Charles Wang save the team?
Was Mike Milbury a shittier GM than Garth Snow?
If the answers are "Yes" and "Yes?" You got yourself some Kool Aid. So what IS Islanders Kool Aid? They're the fans that celebrate a close loss. That think every prospect will exceed the production of Bryan Trottier and Mike Bossy- especially Josh Ho-Sang. That the Islanders "won the draft."
They're a fan base that is wholly ready to fly a "We Tried" banner next to the legends of the organization, and would retire the number of a guy whose only organization leading stat is "Showed up to the arena."
Bailey has been an Islander his entire career, since he was passed on in his draft 8 times and was shockingly available every time the Islanders traded down in that draft to acquire picks that they did absolutely nothing to help the team with. How do I know? Where's the Snake? And who also caused the Islanders to trade a 5th overall pick years later to get a guy taken a few picks after Bailey in Jordan Eberle. More on Eberle later.
Bailey's career has been defined by 8 years of shitty hockey, putting up around 30 points in each lackluster campaign in which the only impact he made on the team was a negative one. Terrible goals totals for a top 6 forward, peaking at 16 goals as a sophomore. A plus minus like a coal mine in West Virginia.
There was not a lot to root for there, if you look at statistics.
Also, in Baileys first 8 years, he had burned through 3 Islander contracts. His entry level and RFA deals saw Bailey post 58 goals over those five years- an average of 12 goals a season.
This was time for him to cash in. And it was the birth of the Bailey paradox.
The Bailey paradox is the idea that because he's our guy on our team and he sucks? We have to like him. And the more he sucks? Like when he takes no shots for 3 or 4, or5 games in a row? The more you love him. Also, he has had spans where he has gone 3 or 4 or 5 games in a row without a shot.
Fun fact- Bailey had more games with zero shots on goal in 2018-2019 than Alexander Ovechkin has had in his entire career. But why would I compare Bailey to Ovechkin? I didn't. Kool Aid did.
Bailey's mythology only grew when he took a "team friendly" UFA contract in the summer of 2013. Kool Aid started to call him elite, citing that he produced somewhere around four tenths of a point a game. Heady numbers. To reward the organizations faith in his nearly $17 million contract coming off of the first $5 million he made as an Islander? Bailey scored 8 goals over the entire next season. Just like elite Ovechkin would, right?
In fact, every time Bailey signs a new contract? His numbers regress the very next season. Shocker!
This is when we get to reaction number two about Josh Bailey- who is he?
Opposing teams fans will largely have no idea who he is. For two reasons. One, they've watched their home teams play the Islanders and never noticed him. Which explains the nickname "Invisibailey." Ever see him take a game off? Where he didn't appear in a scoresheet save for attendance? Sure you have. Other fans notice, too. They're almost stunned when he does something, because if you play the Islanders twice a year, he is very likely to do nothing in either game. Maybe he gets a goal but probably not. Maybe a hit, but probably not.
Josh Bailey has as many career hat tricks as MICK VUKOTA. Mick just became a top 6 forward! Speaking of…
A top six forward shouldn't average 108 shots a year. That's not even near two a game. And a game where he puts up 5 shots- there are a couple in his career- that's 2 games off in return.
Also, Josh Bailey has never tested the free agent market. Bailey signed an entry level deal, a restricted free agent deal, a "team friendly" deal that tripled his salary, and another team friendly deal that almost doubled it. Bailey is making a team friendly 6.25% of the entire salary cap (it was a higher percentage when he signed the deal) to…avoid free agency.
When a player like John Tavares leaves the only team he ever knew, it's rare. He's been super well compensated, treated like a king, and usually has a team around him built to win. Usually. Garth Snow tried to build a team around Tavares centered on Josh Bailey and Andrew Ladd. And we all saw the results. Oh, how do I figure?
Ladd was the most significant Islanders free agent signing in the last 5 years, and the entire Garth Snow era. And Bailey was the guy Snow had to extend in season to show a commitment to winning to JT.
No wonder he ran home to Toronto to take the strap on.
But that's Tavares. Bailey is on no comparable level to Tavares.
Most unimportant players use free agency to shop their low to average stats to hop from a team that may not be successful (Garth Snow era?) to a team that feels it needs to make incremental improvements and can use some "veteran leadership" and "experience" and "Hockey IQ" to cash in on a raise that wasn't available to the team that already saw what they had. But that's a competitive market.
It could backfire- see Vanek, Thomas. Boy, I'm sure he's pissed that he said no to 7 years and $49 million from Garth Snow…a contract that the Islanders would still be paying out to him had he signed it. It only cost Vanek about $22 million that I bet he could use. Bet.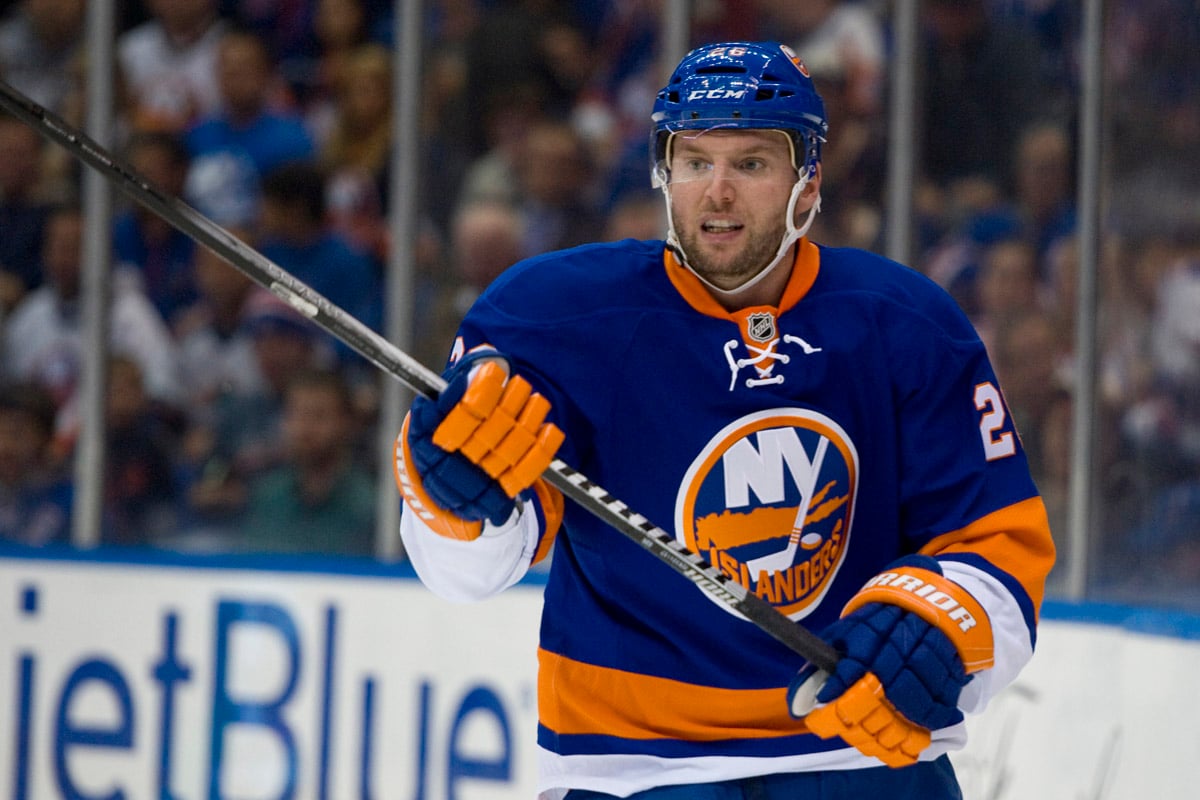 And in a competitive field? We already saw how Bailey competes. He becomes Failey. Even if he left the Islanders for a contract better than $30 million- which no one was offering- it would be on less years. And the deal after that? Khunackhll money. Stupid fucking name.
Also, how do I know no one was offering? Garth Snow offered Bailey at the 2015 draft straight up for a 1st round pick. Team friendly deal? 29 rejections.
That's why Bailey never bothered hitting the market. There wasn't one. He was a DeSoto in a Tesla world.
So when other fans say "Josh Bailey? Didn't he score against us when Jeremy Roenick was still on the team? Why do they sing songs about him?"
Because he is a Kool Aid legend. Like Charles Wang and Garth Snow. And the word legend? It means shit you tell stories about that never really happened.
Lastly, there is the kryptonite to Islanders Kool Aid. They are referred to as Islanders Realists. Generally, they are curmudgeons. But they're terribly correct with their expectations. Maybe not as much in the Trotz Era, but about 99% right before that.
Realists have the "No shit" reaction to my Josh Bailey is useless premise. Because, Josh Bailey is useless.
Lets look at the Golden Age of Bailey. It's like looking at a game of Three Card Monty.
The Golden Age of Josh Bailey started when he was placed as a first line forward with John Tavares, and ended the next season when he was a first line forward with John Tavares and Anders Lee.
Why is it a Golden Age? Because in the 2016-2017 season Josh Bailey did something he never did before. He led the league in a statistic. Sure, it was arriving at the arena, which he tied with many other players. And only scored one more goal than his career average despite never missing a game and playing top 3 minutes. But first is first! And in fairness, he had a then career high with 13 fucking goals added to a coattails 43 assists. But the best was yet to come.
That watermark was the 2017-2018 season. Bailey had his only career All Star appearance. Just as many invites as enforcer John Scott and Buffalo Sabre Zemgus Girgensons, and just as deserving. But here's the interesting thing. Bailey made the 2018 All Star game- the ending of the Tavares Islanders era game. But the unrestricted free agents Garth Snow let walk away in Frans Neilsen and Kyle Okposo? They both made the 2017 All Star Game without riding the coattails of John Tavares a year sooner.
Andres Ladd has yet to make an All Star game as an Islander. But I'm pretty sure he mouthfucked a carp.
Bailey's stats ramped up in 2018-2019 to a very respectable 71 points which is how he earned that All Star cap tip. But the thing I always found interesting- on New Years Day 2019, Bailey had 50 points. He ended the season with 71.
Bailey also did his best Mike Bossy impression, scoring 18 goals in 82 games. Sure, 50 in 50 sounds sexier, but did Bossy ever play in 82 games? Nope. Not once. Inconsistent. Not like Bailey.
It's not that every single winger that played a full time season with John Tavares scored at least 20 goals. It just happened for Matt Moulson, PA Parenteau, Brad Boyes, Kyle Okposo, Thomas Vanek, Anders Lee, Mitch Marner, Zach Hyman, Andrew Ladd, and Sparky.
I'm sure it wasn't that Tavares took the last few days off in that season to preserve himself for Toronto's bidding so Bailey had no coattails to ride. The only other options is, Bailey only had one guy to tap in rebounds with, and Lee was prodigious in the last two weeks of the season or else Bailey does 10 points between January and April.
Oh, Bailey signed that contract extension also, so why try?
None of Baileys 71 point masterstroke mattered, as the Islanders missed the playoffs. Basically, his stats were the equivalent of jerking off into a plant, Harvey Weinstein style.
And when Tavares left Bailey? Tavares had his best season ever. SNAKE GOT RID OF BAILEY AND HAD HIS BEST SEASON EVER. There goes that horseshit playmaker hockey IQ myth.
So even at Bailey's absolute best, just two years ago when he put up 71 points making $3.3 million a year, he was untradeable. That's a fucking problem. Because every team in the NHL saw his best effort, and it landed the Islanders in the lottery.
You think Bailey would motivate a bad team to make a move to ensure their reaching the salary cap floor while guaranteeing a lottery draft pick- you know, just how Charles Wang saved the team. Yet no bad team wanted Bailey.
And that'd because at any dollar amount, be it $825,000 or $3,000,000 or $5,000,000, Josh Bailey is fucking useless.
Why is he useless? Because after his hallmark 18 goal season, a funny thing happened. Bailey had his first real coach.
Islanders Kool Aid has always attributed Bailey's lack of utility as a function of his being "rushed" to the NHL. Sure, Bailey was rushed onto a bad team, but no more rushed to a bad team than players like Jack Eichel, Nathan MacKinnion, Connor McDavid, Jeff Skinner, Noah Hanifin, and Anthony Beauvilier. Rushed just as young into the league as Taylor Hall. Which I'll mention shortly.
Kool Aid will say that you can't harangue a man for his history. People learn and change. Bailey has spent 12 years in the NHL. Surely after the first 8 he got the hang of it! Because a 27 year old man was rushed…so he can't possibly overcome the current level of 18 year olds outperforming him! Somehow, they weren't rushed.
Or…maybe rush has to do with talent and ability?
Understand when we talk Bailey's ability and hockey IQ, Rob Schremp outperformed him in his time as an Islander.
So after this golden age- a decade into his career, a time when he had seemingly 'figured it out'- he had a 20% decline in his production. And is on pace this year for another decline. And despite being coached by Hall of Fame head coach Barry Trotz, on both November 7 2018 and November 7 2019, Bailey was on a 31 goal pace for his season. Last year he ended with 16. This season? I'll take all the $20 bets that come in that Bailey ends the season with less than 20 goals.
"BUT BAILEY SCORED AN OT WINNER AGAINST PITTSBURGH!" Yes, he did. After Mathew Barzal deeked the entire state of Pennsylvania out of the rink. I'm shocked Bailey didn't miss that open net, quite frankly. Fucking Shane Prince scored two goals in a playoff game once. Let's give him a handy!
So to summarize my thesis. Josh Bailey is fucking useless. I mentioned three players that we shall compare Bailey with. Two of these three were not my creation but that of Islanders Kool Aid. But there is one entirely is in my head.
Alexaner Ovechkin is the greatest goal scorer I have seen since Jaromir Jagr and Mike Bossy. It's what he does. He is an elite, Hall of Fame player. He is a champion.
And if I were Ovechkin and were being compared to Josh Bailey? I'd shit in every moron's mouth that said so. Shit right into their brainless empty head. It wouldn't matter, because they already have shit for brains. #ToiletSkulls
Ovechkin makes just about less than double Josh Bailey. His statistics are just about less than double Josh Bailey over the last 4 years. So point for point, they make pretty much even money.
Except in that time period, Ovechkin won a Stanley Cup. And took a team friendly deal to improve the squad. With the same head coach as Bailey. And has a fucking Hall of Fame career. And Ovechkin's goals scored numbers over the last 4 years match just about the entire 12 year career of Josh Bailey. 300% more goals scored in that same 4 year span. Ovechkin has almost TWIC as many power play goals than Bailey has CAREER GOALS. Astronomical.
If Bailey is elite, Ovechkin is just about Bossy.
Then there's Jordan Eberle. Drafted after Bailey, so clearly fat fuck GM Garth Snowcone could have traded back a few more times and gotten a player who almost always scored at least 20 goals, and has occasionally scored 30 goals. Two things Bailey has NEVER DONE. And get this- Eberle took a PAY CUT to stay with the Islanders. A team friendly deal!
Waittttt….Bailey took a 180% pay raise to stay with the team. Eberle took a 10% pay cut to stay with the team. Someone is a hero. I give a fuck who. And if you compare dollars per goal, Eberle is the bargain.
But the last one I want to compare to is the best one. Taylor Hall. Makes very similar money to Bailey despite winning a league MVP. Hall generally scored 20-30 goals annually.
Hall is like a leveled up Bailey. Put up on average about 30% more points than Bailey does. In their best year put up about 30% more points than Bailey does. Won an MVP. Took a moribund franchise back to the playoffs.
And his ass got traded! But for what?
And here is why we see that Bailey is absolutely fucking useless.
NHL MVP Taylor Hall and half of his salary and a prospect were traded for a first round draft pick, a conditional draft pick, a defensive prospect, and two prospects that are so obscure that Hockeydb.com had no idea who they were. Neither did hockeyreference.com and capfriendly.com. If a prospect shits in the woods and no one smells it, is it a prospect?
Did I mention that the Devils allegedly paid half of Hall's deal?
So in case you missed it, a former league MVP was traded for a prospect, two very low prospects, a 1st round draft pick, and a floating pick. That's a fucking awful haul for an MVP and an annual 20 and occasional 30 goal scorer.
So, if that's the haul? How do you trade a useless player? What are you going to get?
That's not the best question. The best question is what do you give to get rid of an albatross that never lead a team to an important win?
That's where Isles Kool Aid and Isles Realists differ. Isles Kool Aid thinks every prospect is a superstar. They're not. Almost none will even register. 3 years ago those fuckups though Keifer Bellows was Patrick Kane. Now? Kane wouldn't even bother to rape him. Either Kane.
But say Bellows was a good prospect- which he's not. We don't trade him because? Because a win now team cannot trade unproven prospects for the help that can put them over the top today? Yeah nah. Many teams trade prospects that are ok for better players. Look at how the Boston Bruins moved Tyler Seguin and Dougie Hamilton to keep a competitive team. But we need to hang on to fucking Michael Dal Colle?
I like Michael Dal Colle as a human being. Great back story. Can relate. But what the fuck is he doing in skates? Dude should work at Cock Fil A. Moving slowly.
If all a former MVP gets is a scant prospect, 2 long shot prospects, a 1st, and something else but only if you pay for him, let me ask you this:
What does Josh Bailey draw from another team?
Based on Hall? At best, a 3rd and a conditional 3nd. And here's $2.5 million back on this mess. Which still fucks our cap, and gives us nothing to help a win now roster. Because even in losing Bailey, Bailey fucks us just like he has done since he's been here. Bailey never wins, and currently we have so little coattails now for anyone to notice him.
Pretty much, all of Bailey's value lies in unloading his cap hit. And based on Halls' deal, the Islanders can't even do that for a declining coattail riding piece of shit player.
Bailey eats cap space without improving the team. Bailey is untradeable because what the fuck does he do outside of being a negative and never propelling his team to a win? No one has ever traded for Bailey except Garth Snow who is a massive fuck up. No team ever leaked a Bailey rumor, except maybe about his sexuality? That team? The Islanders.
Josh Bailey is untradeable. He is overpaid. All he does it hurt.
As I have empirically proven, Josh Bailey is NOWHERE near elite. He's not above average unless you cherry pick weirdly useless advanced stats. However, he IS completely fucking useless. He can't be traded for any value. Nor does he create value for this team. All he has shown in his career is an ability to fail, which is more of the same.
And that's the problem. Baileys utter lack of utility makes him untradeable. We're stuck with him. As I predicted 2 years ago, he will end his Islander career with more games played than any Islander ever. And that is an indictment on how large a failure this organization has been. A team spending 92% of the cap ceiling with fucking Leo Komorov and Josh Bailey as catalysts to show for it. Stanley Cup? Meet Dixie Cup.
Josh Bailey is fucking useless.
You can respond in the comments or @JoshBarely on Twitter. It won't make Bailey suck less.