I have to give my buddy @AmazingInsights credit for this concept, as anyone who follows his twitter knows his disdain for Josh Bailey. The question he often asks is "How many games does Bailey take off?" He even mentioned the title of the Josh Bailey Hide and Seek Tournament…which with the postponement of the season, I saw it as a challenge to create. So thank you Corona, for making this idea a reality.
First off, we needed criteria. What is a night off? And we needed a point system to assess it. The point system came from this- when you screwed up, you were assessed points toward a score. And when you do something good? You get credits against those points. Allow me to present the following:
Points per game:
Zero shots on goal (2)
Zero hits (1)
GWG (-2)
Goals (-1)
The breakdown?
Zero shots on goal is the worst offense you can have if you're trying to win games. If you don't shoot at goal, you can not win games. Pretty simple so it's worth two.
Zero hits in a game? You aren't physically involved. I understand that there will be discrepancies for such in top 6 and bottom 6 players, so luckily I am only including the top 6.
Game winning goals? A misleading stat, as you may have scored 5 in the first and held on for a 5-4 win. Not a stat of clutch, but a stat saying we scored more than them and this one mattered….as much as the rest of them, just one more.
And goals. The ultimate measure of scoring. Without goals, there are no assists. Without assists? There are still goals.
Basically, the hockey version of baseballs' three true outcomes- a walk, a strike out or a home run. Things a defensive player just sort of watches.
Final formula? (Zero shots on goal X2 plus zero hits in an entire game – Game Winning goals X2 plus total goals). That's the Uselessness Quotient. The higher the number, the more useless you are.
You may have noticed that I did not include assists. You may be wondering why. If you are a Bailey fanatic, you may say that this is biased and on purpose. And I would say yes and yes, except not for why you think.
The bias for including assists for players is that Bailey bias where you talk about total points. I get it. Gretzky had what, 11 seasons with 100 assists? Surely they matter, right? Except Gretzky made Marty McSorley- known for nearly killing a guy on the ice- an annual 11 goal scorer despite 250 minutes a season in penalty minutes. 11 goals per Gretzky season is just 2 why of what Bailey averages.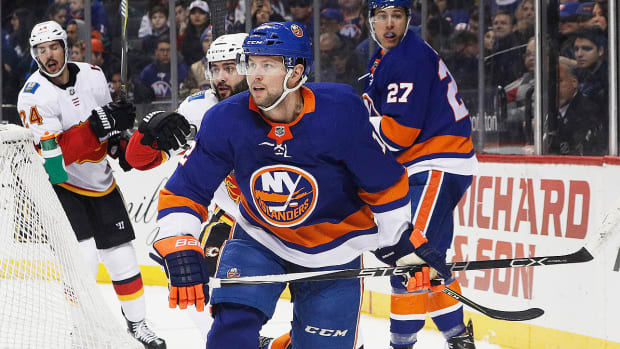 And the "Bailey Boner" that is half a point a game? McSorley did that with Gretzky in 1992-93 on the way to a Stanley Cup finals- that the Islanders should have won- while racking up 399 regular season penalty minutes. I wish there were capitals for numbers. That's almost 7 whole games worth of penalty minutes on a season. Also? McSorley was a plus that season, unlike Bailey in his swan song 71 point season. But, assists!
And I'm not counting the Jari Kurri's and Paul Coffeys of the Gretzky universe, as you're about to see.
So ask yourself this- who has Bailey made a scorer? It seems everyone prospers without Bailey once you account for removing Tavares from that same line. So I don't account for assists because they're Bailey biased, which gets to the on purpose part. Bailey never made Anders Lee as good a scorer as Ryan Strome did, so its unfair to use that against him. Why?
Because an assist does not exist without a goal. So any player getting an assist has a minimum of two other factors involved- another guy shooting, and a goalie missing. And maybe a defenseman missing, so maybe three other factors. Oh, and also it could be a secondary assist, so four other factors. Oh oh, and then a forward may have not backchecked, so five other factors. Or a guy took your pass and shot it off a defenseman's ass and it luckily angled into the net, so six other factors. You see where this is going, no? In short, there is almost nothing in your control when you get an assist.
Also, a player may make a great, needle threading pass to a guy on the goalie's doorstep, just to watch him shoot in into the boards, so we won't count assists because bad shooters has nothing to do with good passing
So with that, lets set parameters. We aren't going to count guys that aren't regulars, because I don't want to do math for everyone. Cya Keifer Bellows and Tom Khunackl, whose name I will never spell correctly. Also, if you are injured, we aren't going to prorate you. Also also, forwards will be exclusive to this study….maybe. With that, let us analyze who has taken the most games off!
Here are the contenders at Bailey's Hide and Seek Tournament:
Mathew Barzal Brock Nelson
Anders Lee Josh Bailey
Jordan Eberle Anthony Beauvilier
Derick Brassard
And for shits and giggles:
Ryan Pulock Devin Toews Nick Leddy
Based on our scoring system, here are the totals, I have to admit, based on manpower stats- things you can do with your own hands productively- they're surprising:
Player (In order of Best to Worst) Uselessness Score
Anders Lee 5
Brock Nelson 12
Anthony Beauvilier 13
Ryan Pulock 18
Jordan Eberle 28
Derick Brassard 37
Nick Leddy 38
Mathew Barzal 38. Uh oh.
Devin Toews 42
JOSH BAILEY 63
Just to remind everyone how we got these scores: (Games w no shots X2 plus games w no hits – game winnings goals X2 plus goals).
No shot and no hits are damning. That Nick Leddy- a player many Islander fans call useless, even Beth- has the same uselessness score as the elite Mathew Barzal shows why Barry Trotz sat Barzal's ass so much last season.
But it's hard to ignore the Josh Bailey number. Brassard was almost twice more useful. Lee was more than 12 times more useful.
How did Bailey get there? Easy. 14 goals are a lot by Bailey standards, especially considering that the season was abbreviated. It's less than half of his 31 goal pace from November 6 2019, or 21 goal pace from December 1 2019, but he was angling at maybe 17 with a hot hand, which would be just about a career year for Bailey goals…assuming he got 3 more. There's also the better chance he ended the season with 15, in top 6 minutes and top line power play time. Want to know why?
Bailey led the team with 14 games without a shot on goal. In 68 games. That's a game with no shots on goal percentage of 21%. One out of 5. So in the last 14 games? We can expect 3 without a shot on goal. So to hit 17 he's need 3 in 11 games, when his average this season was a goal every 5 games. And take away empty net goals? Ouch. 15 was the limit.
Only two other forwards and one of the defensemen had double digit games with no shots on goal: Derick Brassard (13) and Anthony Beauvilier (10). We all know how streaky Beau is, which is why he makes around $2 million. And Brassard less.
The Barzal number was also surprising. Barzal shoots more than ever, but he does not make contact. He avoided contact in 51 of 68 games, compared with Baileys 53 in 68. Bailey takes 78% of games off from physical contact; Barzal a little less. No one is even close to those guys. Even softie Brock Nelson hits about half of his games. Best forward for initiating contact? Brassard, followed by Beau- 3rd liners that floated north on occasion.
And defensemen without grit? Toews. Just saying, when you think of that next contract, think a young Thomas Hickey without the goal scoring touch.
Also? Leddy is totally tradable. He's a right handed defenseman which is a hot NHL commodity. Time to sell, yo!
Understand that before I started this exercise, I did not cherry pick these stats with a predetermined end result in mind. I chose stats that someone can control with their own hands. You can choose to shoot or not. You can choose to hit or not. You can score goals or not- usually an indicator of shooting. And you can be clutch or not, which was the only one I was on the fence about weight on, until I saw how many times a player is credited a game winner versus how few we recall happening. But then end result?
Josh Bailey wins the first annual Josh Bailey Hide and Seek Championship! In a blowout! If you added in contract value via cap hit per production? Bailey's production is worth $2m of the 2019-2020 salary cap. Basically, Bailey has the production of a person versus a carnival barker, or against the house in Vegas.
I invite any fan to use my formula to go over Bailey's history as an Islander and see if this is a one off…or a career trend. I have my inklings, and they're that Bailey is a bigger hide and seek dynasty than the one he's producing with his wife. Or as we often say, more of the same Bailey. Let us know.