Recently I had the pleasure of speaking with former New York Islander Rob Schremp. Most Islander fans are probably familiar with Schremp's shoot out prowess or remember that insane baseball bat goal he pulled off against Colorado (did you know that he meant to do that?), but does the average fan realize that in his Islander career he averaged more than half a point a game- a better average than more touted teammates Doug Weight and Trent Hunter despite often playing with bottom 6 forwards?
Our conversation was inspired by Schremp's decision to walk away from hockey on his own accord and start a new life and career. It struck me curious that he never re-emerged in the NHL, so I reached out to ask him how the New York native found his way to the NHL, about his path afterwards, and about life after professional sports. He was gracious enough to share his experiences and insights, which I found out was a consistent theme for his hockey career.
I'm not a big fan of directly quoting a person because people can read words the way they want despite the intent of the speaker, but Rob gave me the double challenge of having a colorful vocabulary, so whereas I'm not one to why away from saying fuck, I do try to limit my output. Thus a series of direct quotes may have alerted my bosses! However, there are studies that say people who curse are more honest than people who do not. So on that standard, Rob Schremp is one fucking honest and decent guy.
Schremp's path to the NHL started at a young age. His skill set progressed so rapidly that when he was 14 he made the goal of playing in the NHL. Imagine knowing what you want at 14? At 14 I was figuring out how to pump off, but Rob already had the first love of his life and was blazing a pro sports career. I suck.
By age 15 other people were taking notice of Schremp, which made him "Put all of his eggs in a basket." His ability and his confidence made him stand out among his peers, which led to his impressive tenure in the OHL. Shremp played so well that he caught the attention of the Edmonton Oilers, who took him with the 25th pick of the 2004 NHL draft. That's the first round, if you're counting.
In his last year in the OHL, Schremp posted an unreal 57-88-145 in just 57 games, and another 47 points in 19 playoff games. There was another first round draft pick that played for both the London Knights and the New York Islanders, but he didn't have stats like that in London.
Edmonton noticed, and sent Schremp to the AHL over the next few seasons, with a cup of coffee call up in three different NHL season from 2006 to 2009.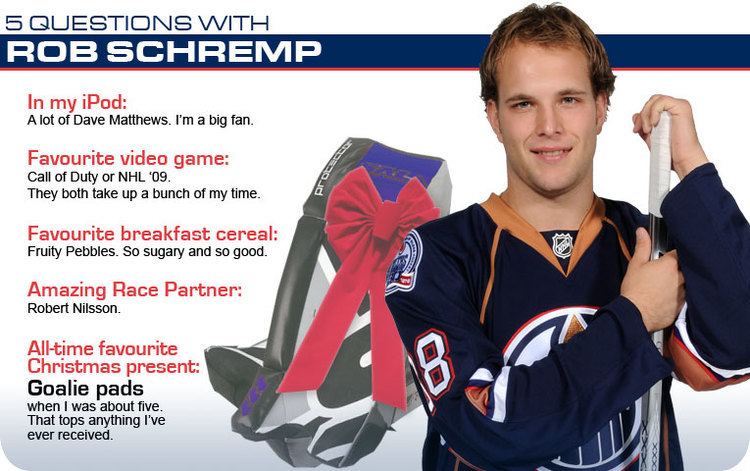 Being in an NHL training camp was surreal for Schremp. He recalled playing against Team USA and Dallas Stars legend Mike Modano, and how Schremp initially felt it was respectful to lose a faceoff to the veteran, but then when he tried to win them? Same result. The takeaway? You have to buckle down and be better to survive in the NHL.
And when Schremp started to buckle down in the NHL- getting 3 points in 4 games with the Oilers in the 08-09 season, Edmonton unusually waived Schremp towards the end of training camp, only to be snapped up by a horrible Islanders team. And they were horrible. In the midst of drafting at 5, 1, 5, 5, and 4 over a 5 year span.
The Schremp Islander era was defined by the best offensive output of his professional career, but also a changing of the guard at coach and an interesting anecdote. Schremp shared that if a coach that has a philosophy guiding his decision making without accounting for the personnel on the team, he is pretty much bound to lose the locker room. In case you forgot some Islander history, Head Coach Scott Gordon wanted to employ an offensive philosophy of "Overspeed," despite having players like Doug Weight and Trent Hunter as key forwards, whose qualities were more about possession and controlling the pace of the game instead of basically dumping and chasing.
As Schremp pointed out, Gordon was fired after a 14 game losing streak. A locker room can collapse in the midst of such if they aren't a tight bunch, but even with the tightest room, with 14 straight losses change seems inevitable. And with the Islanders keeping Gordon around after the firing? Schremp pointed out that he hadn't experienced anything like that in his career. Islander fans take note- other organizations don't run like the SnoWang era Islanders did. Which I guess means professionally.
The Islanders waived Schremp to make room for some of the budding young players (umm, who?) in the organization, and he landed with the Atlanta Thrashers for their final season. Despite having a successful exit interview at seasons end, the Thrashers had an unsuccessful exit interview with the city of Atlanta and moved to Winnipeg, with Shremp finding out about a change of ownership and location via a text message from Captain Andrew Ladd. Which seems mildly unprofessional, but then again, a different team fired their coach and left him stranded outside of the bus recently, so it is not unprecedented.
One story Schremp shared that I felt was amazing that was during his time with the Islanders he personally answered his fan mail. Even if he suspected a person was posing as a child to have a picture or card autographed, he still took the time to comply with fan requests, or to interact with fans in the pre-game warm ups. While this seems to be a standard practice in the league now, it was seen as a sign of not being serious about the game on hand back then. The story reminded me of the Mets Lastings Milledge high fiving fans after hitting a game tying home run, only to be scolded by his teammates after. Sports are supported by fans- why be a dick to them?
In looking back at his time in the NHL, Schremp identified a problem that existed for himself and players like him versus someone coming into the league with different expectations. In his opinion, there is less pressure for a mid level offensive player coming into the NHL than there is for a guy that has historically produced points. "For a guy that can score, they except that from themselves and they've realized their potential that way and way to expand. I want to score and I've proven that I can, so that kind of mentality is predicted to translate to pro. But if you expect people to produce junior numbers you have to provide the same opportunity."
So when you spend time giving a mid level scorer top minutes and an offensive player 12 minutes a night? You end up losing 14 games in a row.
Another statistic that is pretty remarkable from his career was that when the postseason rolled around, Schremp found another gear. Aside from his eye popping 10-37-47 in 19 games back in 2005-06, the year before he was 13-16-29 in 18 games, finishing second in postseason scoring to Corey Perry. In his entire career, he averaged 1.3 points per game in the postseason. When it was time to show up to the dance, he always showed up.
Oftentimes athletes are forced to leave the game behind due to diminished skills. They get old. They get slow. They break. Nolan Bushnell taught me that as you age after 16, you lose microseconds of reaction time. Add that over a decade, and you're a second or so slower than your opponent. This wasn't the case for Schremp. In his last professional season he led his team in scoring, but lacked the passion that brought him to the game as a child, so he walked away from hockey and into something you wouldn't expect- predictability.
To a person that works a 9 to 5 job at the same place every day, comes home to the same place, sees the same people, doing something different can be exhilarating. But what if you spent 15 years not having a home? Travelling from city to city living out of a suitcase? Meeting new people in every city and with each team roster you make? Spending a limited time with your family? It can wear on a person, and in this case, it did. The politics in sports can be crippling. As Schremp said "The game showed some of its ugly side to me, so I said that's enough. I spoke w my wife and closed my own door. If you came with on offer, I wouldn't sign it."
Except, Schremp left the sport without a concrete plan. He was shedding the skin of his former self and becoming something new. The only goal he has was that he wanted to be able to put energy and passion into whatever he wanted to do. And he ultimately landed with a company that led to the discovery of a new passion.
Towards the end and also after his career, Schremp was dealing with depression and anxiety, and was prescribed Xanax and other meds associated with the two diagnoses. The meds were powerful, and they were taking a toll on his quality of life. Add to that the expectation of becoming a parent, and Schremp was feeling an extra wave of anxiousness. The impact of the Xanax was just not going to work with the demands of being a dad.
Towards the end of his career, Schremp came across a company called AG Health which carries a CBD product Vedaecn.com that pretty much became a substitute and replacement for Xanax. People around him noticed the positive effects that CBD was having on Schremp, and he felt better using something more natural.
With some new found time on his hands, Schremp became a product advocate, then an ambassador, to his now self described liaison position with AG Health. He found another passion outside of the ice.
The thing about passions is that they change over time. What you liked when you were 5 may be a part of your life forever, but if that's the only thing in your life? You screwed up.
And that's the hybrid that Schremp has created. Schremp still maintains contact with the game via video consulting. He does so to both stay involved in the game to help players and teams get better. Schremp feels that he has had excellent coaching and professional experiences in his career, and wants to pay forward what he's learned. "I think it's a modern way of sharing knowledge and allows me to do things like stop video and write notes, and to show people how to use their vision. The everyday grind of hockey is hard, but consulting lets me help people."
For people interested in contacting Rob for lessons, you can reach out at 44VisionHockey.com.
The transition from pro athlete to regular guy seems to suit Schremp just fine. For instance, we had to pause our interview because he had to feed his daughter some yogurt, which was clearly the priority. He's taken to jamming on the guitar. He's not packing a bag 67% of the year to go somewhere else. Retirement from a sport wasn't gut wrenching or regretful. It was a renaissance. He has found a new passion, a way to stay connected to his sport on his terms, and he absolutely sounds happy with where he is in life.
So here's the final part. I met Rob about a decade ago at an Islanders fan- player meet up at a restaurant in Hempstead. As the event ended, Rob asked me to hang around. When we talked, he asked me where it was fun to hang out on Long Island, so I made some recommendations (RVC, Huntington for the record). I think we did shots, but it was a while ago, and shots aren't always memorable. But I liked that you could speak with him, and that he was confident enough to admit that he's in an unusual environment and needed a little direction. Or as you may say in sports, he was coachable.
So when I reached out to him for an interview, he said yes. Because as a player, he wrote fans back. I'm not a fan of athletes just because they play a game, and specifically for Schremp, how could I be? His NHL teams weren't exactly overachievers. What could I root for but crazy shootout skills and perseverance? But I remembered how approachable he was, and the truth is, I DID enjoy watching his shootouts. I'm a little shocked that his shootout skills should be something an NHL team uses similar to a DH in order to gain playoff points- which is probably the future of the game as presently constructed. So as Rob Schremp has left the game, I feel that he gave the sport an insight as to how to create a roster for the future. And there's nothing more lasting than being the game changer that redesigned a sport. If only the sport is smart enough to get it. Think about how Larry Bird shot 3 pointers in the 1980's versus how they're shot now for a comparison.
Professional hockey allowed a person to have a very diverse career spanning two different hemispheres, but in the process it taught him about himself and to value what life presents you when you least expect it. But what its taught us is that for a professional athlete, life doesn't end when you hang up your skates. It's really just beginning.