Every now and then we have a writing contribution from our wonderful audience. This column is written by one of our fans, @AmazingInsights from Twitter. Enjoy! – Dan
Let's get right to the point – If you think the Islanders are going to be anywhere NEAR 103 points this coming season, you really REALLY need to read this blog.   Oh, before you do, may I suggest you first turn OFF your emotions, put down the #isleskoolaid and then consider these very real issues.
To appreciate what happened last year, you had the following themes:
1. Lou became GM and changed the mindset of the lockerroom
2. Trotz became Coach and got a coaching staff with a clue
3. We had the "eff John Tavares" Battle Cry
4. We had the emotional feel good Lehner Story.
5. A number of players were playing for Contracts
From where I sit, a LOT of emotional energy across all those items is what truly drove this team. But did you notice something after the sweep of the Penguins? A week off and – to be honest – they lost the emotional "mojo". It really is a hard thing to turn on/off.
The 2019 Season
So far, I don't think I haven't raised anything that can be considered confrontational.   But that's about to change.     Now it's time to take an HONEST assessment of the team as it sits on August 26, 2019.   No emotional thinking, no "isleskoolaid" logic (is that an oxymoron?) and no "I bleed Orange and Blue" nonsense.    Just an honest assessment. 
So first, you might want to open this link in another tab, because you may want to have it as a handy reference for the sections below:
https://www.capfriendly.com/teams/islanders
1. They didn't fix the CORE problem

A. And that would be – SCORING. For all intents and they are bringing back the same team (more on this in a second). While there are NO new impact players, we now have SEVERAL players who played well in their contract years to get absurd over termed contracts. And if you think Bailey is finally going to show up to score 20 this season, you might want to put down the "Bailey Bahama Blue Koolaid", because Bailey hasn't ONCE scored 20 in a season.
B. PowerPlay. You can argue that for the first time in AGES we have a Powerplay coach with a pulse – or clue – with Jim Hiller. With luck, Hiller can have the same effect that Mitch Korn did on our Goalies. But lets NOT forget that the #isles have a "Hey we have two entire minutes to pass the puck before we take a shot" mentality on the Powerplay, so Hiller has his work cut out for him.
2. Goalies
Both Lehner and Greiss benefitted from the Mitch Korn the "Goalie Whisperer". The fact this duo won the Jennings Trophy speaks VOLUMES as to why last years team got 103 Points.
Oh and a quick News Flash !!! Lehner isn't here anymore and we now get to see what magic can be sprinkled on Varlamov. Oh, and Varlamov is a little older than Lehner – and – has some injury history.
3. Emotions
Let's be honest. There was a TON of emotional energy that was channeled last year. So the "everyone thinks we will suck because JT isn't here" mantra is history – as is the "feel good" story around Lehner.
Here is hoping that Trotz knows what buttons to push to get this team ready, but I think he has a MUCH harder road this year. MUCH MUCH harder.
4. They aren't going to surprise anyone
The Islanders surprised a lot of teams last year. I believe a LOT of this was emotionally driven (ie JT) but it was also coaching that turned around the hellacious Snow/Weight "coached" teams. Using the word coached when it comes to Snow/Weight is insulting to even beer league coaches.
But now other teams know the Islanders M.O. and as such they will have lost the "surprise" element to their game
5. Health
Check out ALL the ages (notice a theme here) on the CapFriendly link, including our so called "Top 6". The NHL is now a "young man's league" and here come the Islanders with a number of key players 30 or older.
The Islanders suddenly look .. shall we say .. O L D.
Lets NOT forget Clutterbuck at 31 is coming off MAJOR back surgery. Keep repeating that until it sinks in. Major Back Surgery. For those old enough, remember what happened to Mo Vaughn after his injury. And for those young enough, look no further than Robinson Cano. And those guys play BASEBALL. Hockey is MUCH more physical.
And Varlamov – he is 30 as well. And he was hurt last year as well.
I don't know many players whose body becomes less immune to injury as they get older
6. Bailey Syndrome
I use this term to describe a player who magically decides to show up in the contract year, gets a large contract – and then returns to his normal output.
Be very worried about the contracts given to Nelson and Lee. The biggest problem is the term, because how long do you expect to get that production from either player.
Lesson: Always fear the year after signing a contract, because the focus on playing for the contract is now over.
7. The "4th Line"
Remember what I said about getting older and a physical game. The 4th line likes to hit. The question here, what exactly can you expect from Clutterbuck after surgery ?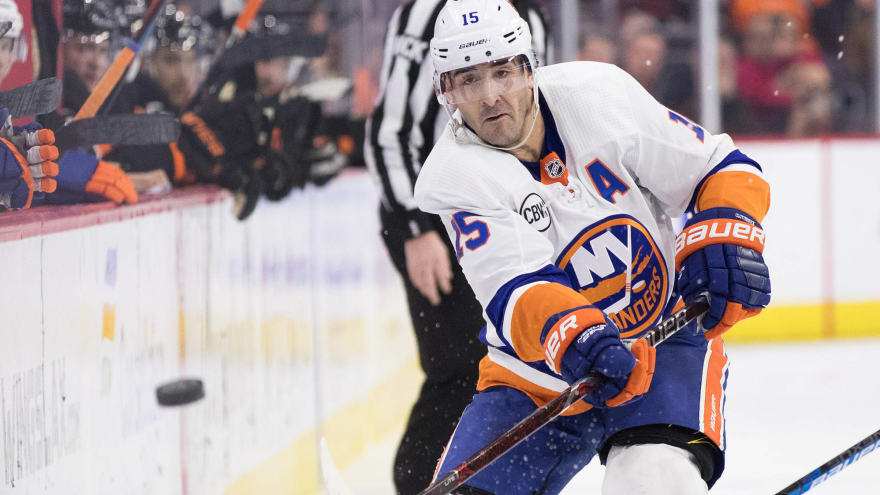 8. Age
I have focused on age a lot in this entry. This really isn't a young team, and it really starts getting ugly 2 years from now (again go to Cap Friendly and start adding 2 or 3 years to the players ages) Lou is going to have to unload a LOT of people in the next few years – and QUICKLY
Lesson: The NHL is a young man's league.
9. Roster and Cap Space
While you are looking at Cap Friendly, now look at the total the Islanders and spending this year. Do you see any "elite" players? I sure don't – yet we don't have a lot of room to sign an impact player.

This is why the Mitch Marner talk was absurd. Remember at the END of this coming year you need to sign Barzal AND Pulock. That 7-8 million cap space is likely going to consumed by those 2
So where are you fitting Marner? Which contracts were you getting rid of to get the 12 Million?
Keep repeating THAT AND Analyzing it until reality sinks in
Oh, and a comical side note. Look at all of the guaranteed contracts. Lets say Josh HoSang plays "lights out" in camp – who is he going to displace ?
Summary
Trotz and the coaching staff REALLY have their work cut out for them this season.
For those wondering "where is Lou" – take a look at the current roster and ask yourself – we are paying HOW MUCH for this lineup ? And Chiarelli is LONG GONE. Which sucker .. er .. GM is going to take any of the players on the islanders roster you would want to get rid of ?

So set your expectations accordingly for this season. I have the feeling it's going to be a long one.