Part one of the season retrospective looked at the season. Part two of this will look at the upcoming off season, because that's where we are now, but this CAN NOT be where it ends. Islander fans are dying to know- what's up next?
Let us not forget, this pas Islanders season was indeed a successful season, thanks to the COVID break. But this team has a whole lot of work ahead of it. Think of the team as a muscle car. Muscle cars are fast and fun, but every one that's ever worked on one knows that there's always an upgrade for every friggin part of the car. I need a Holly carburetor and get me some Cragars!
The Tampa series showed the struggles that the Islanders have versus against high end talent on a night in, night out basis. It also highlighted the lack of high end talent on the team. In the face of such, some players vanished, while others showed how one dimensional they are. Very few manned up and found the sack to compete at a higher level. Kudos, Brock Nelson.
We can talk about roster signings and upgrades for days, and as my buddy @AmazingInsights points out, the salary cap is another player that needs to be coached in the new NHL. The Islanders are saddled with panicky Lou contracts and terrible Snow contracts, with very few bargains in their grasp.
So with that, with would I do if I were the GM and were dealing with reality? Not the #IslesKoolAid reality, where every player is both untradeable for the value to the team but also untradeable because you would need to trade the entire first line for fucking Bryan Smolinski? Think of it as a video game GM. You know, one that makes trades.
First move- See ya, Matt Martin. I enjoy Matt Martin. He's a good Islander and a fun player to watch. But he hasn't played a full season since 2016-2017, is often hurt, and will only wear more as he plays that aggressive style which averages 4 hits a game and also less games all the time. Plus, the NY Rangers are willing to offer him $3 million per? Take him. Piss away 2 salary slots- one for Martin, and one for the guy that spells Martin for 40 games. Martin had 5 playoff goals, which matched his entire regular season. And that surprising output made him…even for the playoffs, the first time he wasn't a playoff negative in 5 seasons.
Speaking of, the "Best 4th line in Hockey" is just about done. Martin is gone this year. Next year Cizikas hits the UFA road, and in 2021 we see the winding down of the Clutterbuck contract. People call the 4th line the Islanders "Identity" line, which is true. That identity is a lack of scoring ability and nobody on the power play causing deficits to opponents. It's just stabilizing a situation. Outside of the one year in his career that Casey Cizikas scored 20 goals- a feat Josh Bailey has yet to achieve- the 4th line scoring a goal is like finding a $100 on the street: a pleasant surprise, maybe a game changer, but incredibly inconsistent and unpredictable.
The Islanders have what some would call a crisis of an RFA situation, but it reminds me of a saying from good ol' "More World Series Rings than Fingers" Yogi Berra- if there's a fork in the road, take it.
The Islanders have RFA situations with three players- Mathew Barzal, Devon Toews, and Ryan Pulock. The only must sign of the three is Barzal. He is the highest end talent of the team. And he needs his talent equivalent to show you ghow good he is, much like Braden Point and Steven Stamoks needed a Kucherov to show you how to put up 100 points a year.
Barzal is indeed an RFA and the Islanders- and the league- are in a cap crunch what with COVID and the frozen for three years' salary cap. So first move? Barzal for the rest of his RFA, plus 2 years. Ideally one. That way he can be traded if he starts bitching, unlike the mistake they made with the snake. There is no need for one of those team crippling pay for stats deals that you see in Edmonton, Buffalo, Winnipeg and Toronto where you pay for hope for the future, rather than results.
As an aside, you don't overpay for winning, either. Anytime a player asks for $10 million dollars when they win a title? The team stops winning titles. See Chicago, Los Angeles for examples. What about Pittsburgh, you say? If Cindy Crosby can make $8.7 per year to be the best player in hockey with 3 cups? So can your best player, and they should definitely make less. Barzal's offer should be in the $5.5m to $6m a year range. Fair for a guy who did nothing in an Eastern Conference Final, in the first time he even got there.
Ryan Pulock? He is an important part of this team. But like every non-Hall of Famer, he too is replaceable. Also, he can get a deal that eats one more year of his restricted free agency. A one year deal? Think $3 million and if you have to, work on a trade to replace him. Why? I can answer that.
Why overpay for a guy that's never been an all star, never won a cup, and was the equivalent of one trick pony Marc Andre Bergeron until Trotz showed up? Lets see if he can take the next step before you pay him for it. And if he won't sign? Trade. Then sign proven commodity, two time all star, cup winning Alex Pietrangelo who has more career points per game than Josh Bailey- from the same draft class- as a defenseman. Alex made $6.5 million last year. He's looking for $10 million. St. Louis didn't pay him that. No one can afford to pay him that without moving a player or two off of their team thanks to the frozen cap.
If you're telling me I get the choice of Toews and Pulock or Pietrangelo? I take Pete. Ideally? You have Pietrangelo AND Pulock, so that means Leddy's got to go. With Boychuk. Each have 2 years left on their deals, but I'd prefer 4-7 years of Pietrangelo versus two years each of a plateaued Leddy and a Boychuk in decline.
So how do you move two, add one, keep one? By moving three. Devon Toews is shown the door. In these playoffs he has shown me two things- he has a nose for offense, but a bigger nose for avoiding contact. He's soft. Like Bailey soft. Also, just like Bailey, fans confuse liking a player because they play for your team with productivity. While in the regular season when you're playing less successful teams, half of whom don't even make the playoffs, Toews looks good. But what Toews has shown that when the going gets tough? The soft get wincing. The man shied away from so much contact that I thought HE was the bubble.
Toews provides offense, so the challenge for Lou is to find a guy with better speed, similar offense, and a defensive propensity to play a body instead of ice pucks to avoid a stick check. Like Pietrangelo. Maybe make a one year offer to Greene. Or maybe we wait for video game GM mode to show you my master plan.
Plus, the Islanders can steal a page from Tampa Bay and grab a recently dejected defenseman on a super low risk contract with lots of experience who may have been overmatched as a 2 or a 4 but would fir in smoothly as a 6 or 7. On the market this year are Kevin Shattenkirk, Zack Bogosian, and very possibly Marc Staal and Brendan Smith of the New York Douchebags. The last two would make less than Noah Dobson and could be a way cheaper injury replacement than Thomas Hickey and the mystery of how he got a 4 year $10m deal out of Lou.
Are you saying that you would trade half the defense off of a conference finals team?
Yes, yes I am.
Boychuk? Hardly played. Greene made him look one dimensional. Toews? Guy has as many hits as Enuff Z'Nuff, and avoided more contact that a double bagged boner. Leddy? Is he getting any better?
Plus, Dobson needs a spot. He's clearly ready for the NHL. Sits for 5 months then steps into a game 6 against the eventual Eastern Conference champs and looks like he belongs? Yeah we can move three guys for an internal replacement and an external replacement. And save money.
Some other players to consider selling high?
Jordan Eberle comes to mind. His 15 playoff points (5-9-14) put him tied with teammate Anthony Beauvillier (9-5-14) in points, plus he had the biggest goal of the postseason. But he makes a lot of money, is nearing the end of his prime, and his regular season wasn't spectacular. He would prosper in an environment that didn't ask him to play a complete two way game and could skate more openly, Western Conference style. Also, in my opinion 1.25 goals a playoff series is awfully terrible for a top six forward. If you can't go more than one goal a series, you have issues. Speaking of….
Josh Bailey. 20 playoff points looks great until you see that only two were goals. One came in game one of the "real" playoffs versus Washington, which was the biggest goal of his 12 year unaccomplished career. The other was an empty netter against Washington when the series was already decided. However, the Islanders also played Florida in a best of 5 that went 4 games, a best of 7 that went 7 games versus Philadelphia, and a best of 7 that went 6 games versus Tampa where he scored ZERO GOALS PER SERIES. 17 games, nothing. And don't forget about how he singlehanded lost the series to Tampa with his unprecedented worst shot in hockey history. Tampa Bay's goalie Andrei Vasilevsky looked thoroughly confused as to how that shot wasn't in the goal, and where the puck was exactly.
Some team may see 20 playoff points and go "ELITE! WE NEED THAT!" Awesome. Take the $5 million off the cap that will be replaced with at the least $900,000 of Oliver Whalstrom or Keifer Bellows. Which is how you would look to improve a top six. Remember, Bellows was on a 20 goal pace if had had 80 games.
But which of the 31 other teams GM's would see a 20 point playoff and overlook the game 5 where he played 30 minutes of ice time without a shot on goal or hit? Will they overlook the over a month where he didn't score a goal against a goalie? And will they say "This guy rides coattails like he's a vice president?"
The thing Islanders fans say about Bailey is that he's elite, but that also in a trade he would return a 6th round pick. They're half right.
Islander fans have an issue of falling too in love with their players. That's a bad idea. The Isles had a season where they're seen as a winning team. On a winning team, your 6 is bad teams 4. Or in the case of the 2014-2015 Islanders, Chicago's 6 was the Islanders 1. Mayfield now is Chicago's Leddy then. Is it time to maybe make a Mayfield someone elses Leddy? What's a fair trade assessment for the next 3 years of prime Scott Mayfield? A 1st round pick? A pair of seconds? Pick and a prospect? All of those options are ok, because it gives the Islanders something they need. A future. Why's that?
Because for everything Lou has done that's been great, there is one glaring hole. The prospect system. Which harkens back to a piece I had written called something like "How does Brett Thompson still have a Fucking Job?"
I ask this because I wonder, how is the development of Kieffer Bellows, Oliver Wahlstrom, Simon Holstrom, Otto Koivula, Sebastian Aho, and Jakub Skarek going in the AHL? I don't have to wonder statistically, because from all the forwards and defensemen, they have combined for 3 goals in the NHL. That makes Michael Dal Colle career 7 NHL goals look prolific, not to mention Josh Ho Sang's almost unmatchable 7-17-24 in 53 games, stats in line with the first two seasons of Josh Bailey.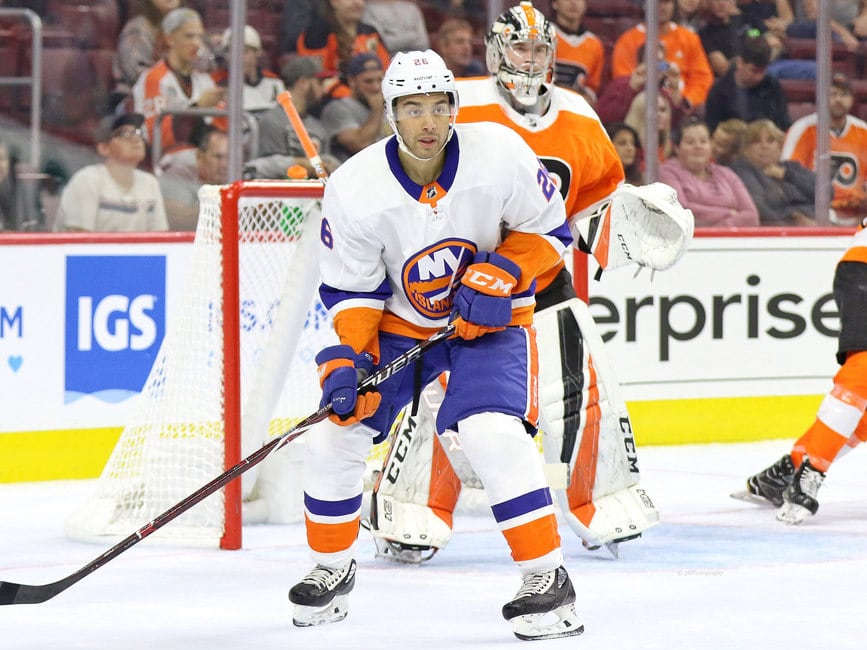 Going back to 2012 (!) the top three highest NHL game playing offensive producing Islander draft picks?
1)Barzal
2) Beauvilier
3) Ho Sang
Want better than that? 2009 and 2010. 3 in a decade, folks. Two worth a shit.
Ideally al five prospects become NHL impact players, but what are the odds? Zero percent. So the upcoming training camp? Time to decide who gets a job, and who get a new organization to call home.
What's next? The last part of this analysis will be the fantasy GM section of the piece, with the bonus section on how unrealistic #IslesKoolAid are regarding the 2020-2021 Islanders, and the awful reality of heading into Belmont with no shiny new toys.